Mentalhealt & money
24.11.2022 | Wellness
The mental health crisis, which has trampled on students, has long been a major cause of late graduation and sick leaves due to post-graduate fatigue. These problems have become a major societal challenge as a result of ongoing crises. Increasing emphasis on performance and the pressure to graduate in time in a weakened economic situation, where students also share their time for work, influences the ability of students to cope. Burnt out graduates are transferring to working life, and not professionals who are ready for a long career. Society must invest in the well-being of students and not abandon the future.
The economic situation affects every aspect of well-being and is a protective factor that can be strengthened, as are other factors that protect mental health. It is often difficult to discuss financial concerns, as this is overshadowed by the fear of stigmatization. There may be concerns about insufficient money for study supplies, participation in student life and coping with general everyday life. The rise in the interest rate on student loans also causes additional stress in many.
The current income of students has been created for healthy students. According to the Institute of Health and Welfare of University Students (KOTT), 13.9% of university students had to compromise on the purchase of medicines due to a lack of money, which should not happen in the welfare state. The open debate on economic challenges and mental health and the promotion of support networks will increase the sense of security and this must be influenced locally by schools.
Working while being a student and the salary that comes from it fill this gap, and many work alongside their studies. However, work is done at the expense of studies and social life. Student life is not supposed to be miserable where people live in small spaces and eat badly, even though people have previously thought so. Students are building their own and the societys future and they also deserve protection and care.
Students are building their own and the societys future and they also deserve protection and care.
The student's income from the study months is generally based on student grant, which is 252,70€ for most university students, a student loan of 650€, and housing allowance, which is averaged around 296€ for a single person. In total, this will be $1198/month. Students are expected to live below the Finnish poverty line, which is 1,229€, and a large part of the income is loan-weighted. This has to change.
As a result of inflation and crises, the negative aspects of students' poor livelihoods have multiplied and this needs to be addressed. Raising the income limits for student grants is a step in the right direction, but it alone is not enough to solve a much larger problem. In addition, it is particularly important to reduce the loan focus of the student's income.
20.-27.11.2022 is Mental Health- week. The theme of the week is summed up in a sentence "Good starts before the troubles end." and "There is light in all of us that we can take into the darkness of other people." During the week, the Finnish Association for Mental Health organises an online fair with a diverse exhibition, popular experiences and other public programmes open free of charge throughout the week.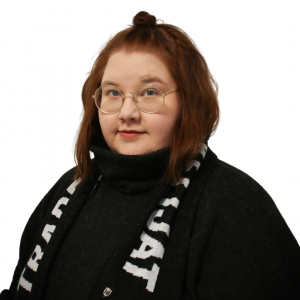 Eeva Määttä
Promotion of interest
040 675 3253
eeva.maatta@tradenomiopiskelijat.fi
Regional responsibility: Talko ry, Sture ry, Atkins ry