Business graduate cap
Order yourself a business graduate cap – only from us!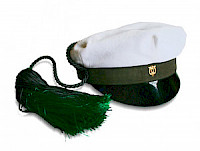 The cap is hand-made by E.R. Wahlman in Finland and designed for business graduates only. It cannot be ordered from elsewhere. The cap is intended for both business graduates and business students to wear.
Prices
For Members of Professionals of Business and Technology: 110 €
For other business graduates and students: 145 €
Ordering and delivery
You can submit an order via e-mail or by using the form below. The delivery time is approximately a week if the item you want is in stock. We always stock the most common cap sizes (54-60) but the delivery time for smaller or larger caps is longer.